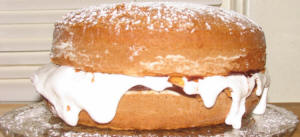 S'more Cake Made Easy!
Everyone loves traditional graham cracker and chocolate s'mores! M takes this delightful treat to the next level.
Moms and kids will love baking this prize winning cake today!
Read the related story and watch the video.
Taste of Home Cooking School

S'more Cake Recipe
Ingredients:
1 box of spice cake mix
1 container of milk chocolate icing
1 7 oz. jar of marshmallow cream
Powdered sugar (optional)

Instructions:


Prepare cake mix as directed on box. Bake cake in two 8" or 9" round pans. After baked, let cake cool for about 15 minutes. Spread all of the icing onto the bottom of one of the cake halves. Spread all of the marshmallow cream on the bottom of the other half. Carefully put the halves together. Sprinkle the top with powdered sugar.
Enjoy!

© 09/14/08