Home
A Miserable Day in Yellowstone!
A Test of Endurance
Avalanche!
Bear Charges Trail Riders
Brother No.1 Takes a Hike
Camping,Boating and Bears!Part I
Camping,Boating, and Bears! Part II
Canoe Collision
Cooking School with M
Dust, Dips, and Bear Tracks
Family Forestry Expo
Fire Season!
Fowl Feast!
Great Falls
Grinnell Glacier Hike
Grizzly?
Hoar, Ghosts, and Pits!
Lost on Father's Day?
M&E:Kids in the City!
Magical Missoula
Marmot Mountain Fun and Terror!
Mystery in the Rain Forest
Shuttle Bus Adventure
Snowshoe Fun on Winter Trails Day!
Splash Pass
The Big Fair!
The Blood Red Moon
The Great Goldfish Adventure
The Swan Rangers and the 79 Switchbacks!
The Tough Trail
Ticks, Elk, Buffalo, and More!
Too Much to Bear

Share this page with a friend Click file, then send.

Camping, Boating, and Bears! (Part One)

For about two weeks, we had been thinking about camping before the great event occurred. Then one cloudy, rainy Friday afternoon in very late August, our dad told us that we could expect to go camping at Many Glacier, leaving the next day. Many Glacier is a particularly beautiful section in Glacier National Park. It is sometimes called America's Little Switzerland. At this time of the year, the grizzly bears are roaming Many Glacier in very large numbers, making it a wonderful photographic opportunity. We have already seen a bear in this region on the Iceberg Lake Trail.

After our dad made the camping announcement, he left to go fishing. While Dad was out fishing, Mom decided we should start packing. Our family packed up the vehicle later that evening. The next morning, we headed out. It was a foggy and chilly September morning. Near our home, we drove through blankets of seemingly impenetrable fog. At the west entrance to Glacier National Park, we saw a sign saying that no charcoal or wood fires were allowed. We thought that perhaps it would be different in Many Glacier, since the fire regulations vary depending on the dryness of the area. After having a great time driving the Going to the Sun Road, and after about three hours, we finally turned onto the road leading to Many Glacier.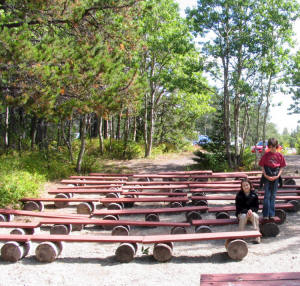 We drove to the campground and finally found a campsite. It was still before noon as we explored around camp. We found that we had a good view of a mountain, possibly good for bear watching. Also, it was right next to an amphitheater, which had many opportunities for play. It had a large wooden box for jumping on or over, and many rustic benches to hop. The benches were constructed of a board painted red, and two or three round logs holding it up. We set up our two tents, one for us, and one for our parents. Our tent proved to be quite a hassle as we struggled to set up the tent poles. Our dad solved the problem with ease. Before very long, the tents were both set up flawlessly. We proceeded to play at the amphitheater where we had lots of fun doing gymnastics acts, jumping on the wooden box, and hopping along the benches.

We took a walk with Dad to explore the surrounding area. A sign was on the door of a restroom saying that no fires were allowed in Glacier National Park. Also, we found that we had a very convenient location to the Many Glacier Store, Swiftcurrent Inn, and Italian Garden Ristorante. Then, we took a short walk to drop our envelope into the camp moneybox. Also on this walk, we familiarized ourselves with the campground. Then, the family walked to the Italian restaurant and looked at their menu. We planned to eat their pizza for dinner.

Soon, we hopped in the vehicle and sped away to the Many Glacier Hotel, famous for its beauty. In all the times we had visited Many Glacier, we were yet to see the interior of the hotel. We parked atop a hill above the Many Glacier Hotel, where we walked down to the lobby. As we walked down, we could see the gorgeous Swiftcurrent Lake behind the Many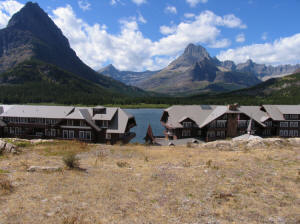 Glacier Hotel. Surrounded by glacial horns, Swiftcurrent Lake had acquired a blue tint, a color common to Glacier National Park's landscape. Upon seeing the lodge, our mom said that this was her favorite so far. Inside of the Many Glacier Hotel, we found that it was much like the other Great Lodges we have seen before with log beams, fireplaces, and cozy atmosphere.

While looking around the lobby, our dad spontaneously decided to go on the boat ride. We walked down very steep steps to the ground from the Many Glacier Hotel. We hopped on the Chief Two Guns and were off. We cruised the lake. Then, we got off to board yet another boat. We were a little surprised, but readily got off the boat. We took a short stroll to the next boat, where we rode along, looking at scenery. At the next stop, we got off and opted to take the walk very quickly and catch the early boat to return to the hotel. Our family passed the group and was off. We scurried along, enjoyed the swinging bridge, and saw a couple of horses. Grinnell Lake was at the end of our walk where we found that it was much like Avalanche Lake, yet prettier in the water department. We tossed a stick in the water, but decided that it polluted the majestic waters of the lake and soon retrieved it with another hooked stick. Shortly thereafter, we turned around and flew down the trail. The people that we had passed going up were still on their way to the lake while we were going back. Near the end, we started pumping our legs to a run, concerned that we would miss the boat. At the dock, we found that the boat was still quite a ways away. After boarding the boat, we rode back to the hotel happily. At the Many Glacier Hotel, we decided to walk around and take a look at the place. We found that the hall on the third floor of the Many Glacier Hotel looked like a barn. After looking around and playing a little Trivial Pursuit in the hotel sitting room, Dad bought us a Dr. Pepper and we left.

After a busy afternoon, we were fairly hungry and decided to eat at the Italian Garden Ristorante near our campsite. We walked to the restaurant and ordered a three-meat pizza and sodas. On our table was a game called I.Q Tester, which was quite fun. While waiting for the pizza, we amused ourselves with this game of strategy. After we were finished eating, the waitress came to take away our dishes on a big platter. Suddenly, she stumbled into "M". Plates and pizza crusts were tumbling down to the floor. I, "M", had pepperoni and tomato sauce on my hiking pants. The waitress apologized and brought a washcloth for the clean up. After this, we went back to our campsite and proceeded to look for wildlife on the slopes.

Our mom and dad relaxed, as we looked up at the mountainside, through binoculars, for wildlife. Finally, our dad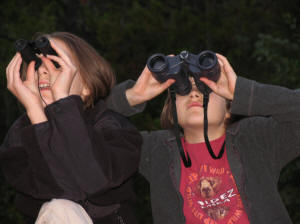 spotted some mountain goats, but we still had not yet seen any bears. Later, our mom read us some terrific Alaskan ghost stories. Pretty soon, we started to put our sleeping bags and such in our tents. After a relatively uneventful evening, we got into our sleeping bags and soon dozed off to dreamland. The next day, we would be heading out onto the Iceberg Lake Trail, because Dad wanted to photograph bears!


Part II

©8/05/07