Home
A Miserable Day in Yellowstone!
A Test of Endurance
Avalanche!
Bear Charges Trail Riders
Brother No.1 Takes a Hike
Camping,Boating and Bears!Part I
Camping,Boating, and Bears! Part II
Canoe Collision
Cooking School with M
Dust, Dips, and Bear Tracks
Family Forestry Expo
Fire Season!
Fowl Feast!
Great Falls
Grinnell Glacier Hike
Grizzly?
Hoar, Ghosts, and Pits!
Lost on Father's Day?
M&E:Kids in the City!
Magical Missoula
Marmot Mountain Fun and Terror!
Mystery in the Rain Forest
Shuttle Bus Adventure
Snowshoe Fun on Winter Trails Day!
Splash Pass
The Big Fair!
The Blood Red Moon
The Great Goldfish Adventure
The Swan Rangers and the 79 Switchbacks!
The Tough Trail
Ticks, Elk, Buffalo, and More!
Too Much to Bear

Magical Missoula
by M and E

Mom said, "Pack your duffel bags!"

E ran into her room and grabbed stuff, including her bathing suit because she wanted to swim.

"Do you think we'll stay in a motel?" asked M.

"Maybe. Mom and Dad sure are acting like we will," E replied, shoving her brand new tankini into the bag.

"I hope so, but Dad said he really doesn't want to," M added. "Lets try to drag out our trip as long as possible so we have to stay overnight."

It was Mom's birthday and Dad said that he wanted to do something like taking a day trip. After thinking over several ideas, we found out that the historic Fort Missoula museum was open. There was a new display that was being featured and because of that it would be open earlier in the season than usual. Nothing was confirmed until Dad entered the living room.

"I see some enthusiasm around here," he said, "I guess we're going to Missoula."

We couldn't help but feeling as though he'd been planning on going to Missoula all along. Mom and Dad had been unclear as to whether we were going to stay overnight or not, but packing our bags was an extra precaution.

M tightened the laces of her olive green snowboots. "Can't you imagine those big city people flinching at the sight of my snowboots?" she asked E who sat pulling on her tennis shoes.

"Missoula is a big city," E added.

Because it was Mom's birthday, we hurried up and ate the cake and ice cream before loading up the car and driving away. After picking up some fried chicken to eat on the way, we settled in for a long drive. Missoula is 120 miles away, and it would take about 2 hours to get there. E wondered what she would do to occupy herself on the long drive. She tried amusing herself by drawing a scene out of her window, but realized that it was as bad as reading in a car. You know, carsickness? Finally, she resorted to what she always does, just staring out the window. Eventually, after passing Lakeside, Polson, and Ronan, there it was. A sign read, "30 miles to Missoula".

Before going into town, we stopped at a place, called Muralt's, to get something to eat. We sat down at a separate booth that was bathed in warm sunshine. The waitress walked up, and spoke quickly with a vague accent. She had to repeat herself before we could understand her. Later Dad said that perhaps we found her hard to understand because we are from the south and talk slowly. M ordered 7-up, her vacation drink, along with some fries. Everything was delicious, and we even got to try some of our parents' onion rings. After dragging out our snack so we'd be more likely to stay overnight, Dad finally got us to leave. It was time to hit the road once again, but it wasn't long before we would reach Missoula.


Dad insisted on looking at the Missoula town that we had observed being built when we first moved to Montana. Ever since we've moved here, we've called these new little neighborhoods with look-alike houses "Missoula Towns." All the houses are built the same, except for the colors, which vary from bright yellow to brown. They are so close together that you get a sense of being closed in or suffocated. It's not a place where we would want to live. It was now a real neighborhood with a sign in front that said, "No children! No alcohol! No loud music! No pets!" That was appalling. Then we realized that these regulations were only for the area under construction where more Missoula houses were being built.

Next, it was time to go to Fort Missoula. We walked into the museum. The woman sat at the desk, looking furious.

"Hi!" M said.

The woman sort of smirked until Mom and Dad entered the museum. Then a bright smile washed over her face.

"Hi!" she exclaimed.

It turned out that everything wasn't open after all. After watching a short introductory video, which actually made M less interested in the museum, we headed to look at the exhibits which included a "guess the bugle call" display. Everyone's favorite was the trunk of old clothes. We tried on bonnets, long dresses, hats, and mink coats. After that we went outside. There were many attractions such as an old root cellar, a fire lookout, lots of old tractors, and all kinds of other intriguing buildings and stuff. M rolled down a hill as E took video. It was a partial imitation of "Fat Kid Falls off Stroller". We strayed from Mom and Dad to avoid lectures, and had fun climbing on the artifacts. The best was climbing the stairs of the fire tower, but it was also horrifying having the knowledge that with one misstep, we could fall to almost certain death. E took a whole bunch of pictures and we tried to take as long as possible so that we could get to stay at a motel. We roamed the museum grounds for about 2 hours. By the time we were done, we knew that we couldn't go on the famous "Missoula Carousel", as it closed at 5:00 and it was past that. To our joy, Dad told us that we would do that tomorrow. Did it mean…we didn't dare mention it. We drove away from Fort Missoula.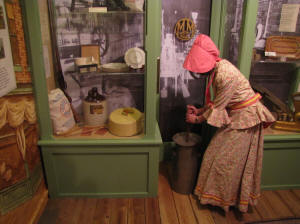 E dressed up as pioneer woman churning butter.
We passed the mall and Dad asked if we would like to go and look around. Of course! Our mall is extremely small, quiet, is single story, and doesn't even have a fountain. First, we went into Dillard's where the abundance of shoes was magnificent. They also seemed to have more fashionable clothes than the ones in our stores. We continued to explore the mall and there was even an escalator in the children's Hergerger's. There were so many stores! There was Gap, Eddie Bauer, and a dark little T-shirt shop. The shop was dark, smelled musty, and had strange music playing. There was a guy in there that was the perfect image of Raymond in the movie Aquamarine. A sign in a hall said, "Clothes optional beyond this point >" . At first I thought it meant something seriously naughty, but the sign pointed to the fitting room. We left the store and went into Victoria's Secret. It was thrilling. They sold bras called Hello Bombshell that add 3-cup sizes instantly. Of course, it was 3 inches of padding. One of the highlights of Victoria's Secret was when a scruffy, bedraggled man entered the store. He was out of place. It was too soon for us, when Mom and Dad said it was time to leave. Now the moment of judgement had come. Would Dad ruthlessly start driving home or would he find a cozy, luxurious hotel to spend the night? We crossed our fingers. What would he do? Dad announced that we would stay at a motel.

Dad pulled into the C'mon Inn. The name sounded tacky, and we were ready for a dinky motel. But when we entered we saw two pools, multiple hot tubs, and almost all the guests were families. Crowds of kids walked around in bathing suits and lounged in the jaccuzis. The C'mon Inn looked like a luxury resort! When Mom and Dad asked the desk clerk about a room, the only rooms available had only one king sized bed. We could have cried. After that experience, no motel seemed right. We always have a lot of trouble finding a motel, we just can't decide! Some were too small, had a disgusting pool, were too expensive, were for business travelers, or their doors were the same color as a Motel 6. We drove around the outskirts of Missoula for about an hour searching for a place to stay and wound up in Lolo at the Days Inn. There was no pool, but we had a pretty nice room anyway. We were sent down to the lobby to fetch some creamer for our coffee, when we heard weird Indian music. At first we thought it was coming from a room, but then we saw the maid watching the TV. The maid turned and grinned eerily, her white teeth glowing. When we got into the other building of the motel, we had a good laugh about the maid's music and the smell of curry wafting around.

We woke up bright and early in the morning and went down to the continental breakfast. We had fruit loops, coffee, muffins, waffles, and apple juice. After checking out, we drove back to Missoula and over to Caras Park, where the hand carved wooden carousel was. It was only around 9:30, so to pass the time we walked around downtown Missoula.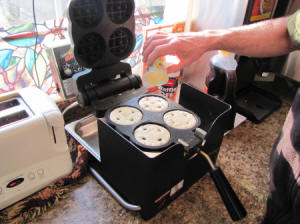 Dad makes waffles at the Days Inn.
After that we went back to the carousel. We all picked our favorite horse and the ride started. They were the fastest and the best flying horses that we have ever been on. It was the most realistic carousel; it was actually like riding a horse. Sadly, it was time to go home, but not until after stopping at the SUPER Wal-Mart.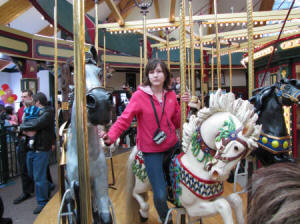 M on flying horses.
On the way home, near Arlee, we saw police cars up ahead and a long wait. An ambulance drove by and we finally reached the scene of the crash. A car was overturned in a ditch and a pale blue sheet was covering a dead body. A motorcycle was completely crushed on its side. Men and women with purple gloves appeared to be looking for something. A biker couple held each other looking distraught. We drove by, wondering how the wreck had happened.

After passing the accident, we continued on our way home. We stopped to take pictures of the mountains near Polson which are extremely large and looming. The Mission Range made way for the Swans and we reached our little city of Kalispell. The traffic was light, compared to the bumper to bumper traffic of Missoula. Even though our trip was a blast, it was good to be home!
©03/24/10
Please don't leave before you visit our blog!