Home
A Miserable Day in Yellowstone!
A Test of Endurance
Avalanche!
Bear Charges Trail Riders
Brother No.1 Takes a Hike
Camping,Boating and Bears!Part I
Camping,Boating, and Bears! Part II
Canoe Collision
Cooking School with M
Dust, Dips, and Bear Tracks
Family Forestry Expo
Fire Season!
Fowl Feast!
Great Falls
Grinnell Glacier Hike
Grizzly?
Hoar, Ghosts, and Pits!
Lost on Father's Day?
M&E:Kids in the City!
Magical Missoula
Marmot Mountain Fun and Terror!
Mystery in the Rain Forest
Shuttle Bus Adventure
Snowshoe Fun on Winter Trails Day!
Splash Pass
The Big Fair!
The Blood Red Moon
The Great Goldfish Adventure
The Swan Rangers and the 79 Switchbacks!
The Tough Trail
Ticks, Elk, Buffalo, and More!
Too Much to Bear
Share this page with a friend Click file, then send

Ticks, Elk, Buffalo, and More!

After a long winter and waiting for the snow to melt, it was finally opening day of the Red Sleep Mountain Drive at the National Bison Range. After driving past the cerulean waters of Flathead Lake, the largest natural, freshwater lake West of the Mississippi River, we headed to Polson. We stopped for pastries but couldn't find a shop that sold them. It was then on to Ronan, and just a little bit farther to the National Bison Range in Moiese, Montana. After having had a cookie at the visitor center and Mom having checked to see if they had any magnets, we started on the Red Sleep Mountain Drive. This is a steep winding road up the mountains for viewing flora and fauna. Colorful wildflowers bloomed along the roadside, and there were many mountains and hills for spotting wildlife.

We hiked up the short Bitterroot Trail, where we saw a buffalo down below. This is the first spot where Mom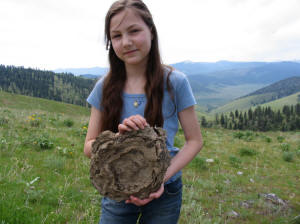 saw the ticks. We smelled a Ponderosa Pine tree and "M" picked up a large buffalo chip.

After that, we drove farther and hiked up the steeper High Point Trail. At the top, we saw the Mission Mountain Range of Montana. "M" started down a shortcut, and we all followed her. We got to the vehicle, and started down the road again.

A bunch of buffalo stood at the buffalo wallow. Some of the buffalo had orange colored calves with them. Mom and Dad took pictures, and then we continued to the picnic area.

At the picnic tables, we sat down to eat our tuna, lemonade, and snack cakes. Suddenly, Mom found a bunch of ticks in "E"'s hair. "E" screamed a lot because she didn't want ticks in her hair. Mom found ticks in "M"'s hair also. She fine combed our hair, and made us comb hers. Mom said it seemed like the ticks were everywhere. She then sprayed DEET on our clothes to prevent further ticks from attaching themselves to us. We couldn't figure out if they were in the trees and fell on our heads. Since ticks are supposed to live in bushes, they must have brushed onto our pants, and climbed up to our heads. After the drama of the ticks, we walked around the nature trail where we spotted some birds with brightly colored plumage.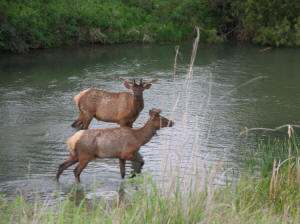 It was getting later in the evening, which meant a better chance of seeing more animals on the drive. So, we started down the Red Sleep Mountain road again. This time we didn't go on the Bitterroot Trail, but we did go up the High Point Trail again. On the way up, we were startled by the sound of stomping hooves of a wild animal. We kept moving and at the top of the hill saw a bighorn sheep in the valley below. That must have been what we heard, we thought.

It was a productive wildlife viewing adventure as we saw bull elk, bighorn sheep, pronghorn, and deer. Of course, we saw buffalo.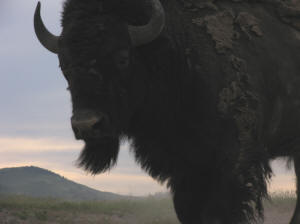 We were stopped in the road when a large bull came near. It looked huge as it came closer and closer. As it lumbered right behind our van, "M" screamed with fright, "It's charging!"

Even though "M" warned the family, our parents just sat there and didn't even start driving away. Thankfully, the buffalo did not strike.








Quick Facts About This Story:
Later at home, several ticks were found on M & E.
Approximately 300 to 500 buffalo roam the Bison Range in Moiese, MT
The 18,500 acres of the Bison Range is also home to 50 different wildlife such as elk, pronghorn, bear, etc. as well as over 200 species of birds.
For additional information on the National Bison Range visit their website.

©8/9/07 Share this page with a friend Click file, then send