Share this page with a friend Click file, then send.

Mystery in the Rain Forest


"Remember," said M that morning, "It's the day of the big hike."

E got out of bed, and decided to dress early. We were supposed to hike to Avalanche Lake, where we had previously seen avalanches. But, Dad looked in the newspaper and found out that the Going to the Sun Road was only open to Lake McDonald Lodge and not yet open to the Avalanche Lake trailhead. The entire Going to the Sun Road usually doesn't open until sometime in mid to late June. M suggested walking to the trailhead, but Dad said that was too far, in addition to hiking to Avalanche Lake.

We had to think up another idea on how to spend the day. We thought about going to the annual Family Forestry Expo, but Dad wanted something with exercise, and he wanted to break in his new Italian hiking boots. He said that we would probably go to the Expo the next day.

We got our backpacks, not knowing where we were going (Dad did), and set out. Dad had decided we were going to walk a little of the Going to the Sun Road from the Lake McDonald Lodge parking lot. The snow had melted, so we would probably walk faster than when we walk in the snow. Instead of hiking the road, we headed into the woods, and would hike cross-country back to the road. The forest was damp and the ground beneath our boots was spongy. It was very pretty and coming back to life after a long winter. Many mushrooms grew on logs and trees.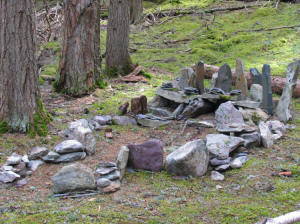 After walking a while, we came upon what looked like a stone monument of some sort. It looked somewhat like a cairn, but also like a stone grave. There was a covered area, with what appeared to be strange offerings inside. They had red and white checkered fabric on them. One resembled a dollhouse chair. Was this a mysterious shamanistic rock cairn? Was it an ancient burial ground? Or was it made by fairies?
We hiked deeper into the rain forest and saw lots of deer scat. We hoped to see a deer. Suddenly, Dad spotted a whitetail deer with its white flag waving. E heard the sound of scrub cracking as it moved away in the woods. In order to get some video, we decided to follow it. We went into the brush, but finally gave up and headed in the direction of the Going to the Sun Road. On the way, E found a collapsing log that was rotting and gave way under her feet.
We found the road, and continued on our way. We turned onto a trail. It was supposed to be a shortcut to a bridge that we would cross. It wasn't too much of a shortcut, but we reached the bridge. After crossing the bridge over McDonald Creek, we headed down the trail that follows the creek. It would take us to the horse bridge, a bridge that had been washed out by a flood in 2006.
We started out on the trail seeing lots of juniper leaves and snow on the ground. We discovered a gigantic footprint; could it be a Bigfoot? We also saw a strangely shaped tree that reminded Mom of the Big Bad Wolf. After walking a while we reached a bench overlooking McDonald Creek. The water was swirling, as it was spring, and the snow in the mountains was melting.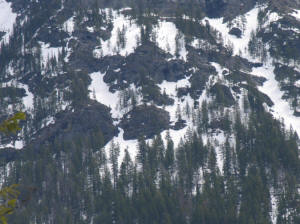 Just like clouds in the sky look like images, so do snow patches on the mountains. M saw a skull face in the snow on the mountainside, and pointed it out to us. Our Dad thought he saw it, but what he saw was in another spot and turned out to look like a devil face. We also saw an alien shape in the snow.

We then watched a Harlequin duck swimming in the rushing rapids. He ducked underwater a lot. E thought he was eating the fish under the water. Dad said that maybe he was eating the plants.

It was time to go, and in a short while we were at the horse bridge. The water was rushing very fast as it flowed over the big rocks. On the opposite shore were huge boulders. They were taller than the average man!

E climbed up the hill toward the road, not on the trail. She stopped at a rock and sat down. M climbed up and Mom took some pictures. After that, we hiked back down the road and visited an overlook that we had never been to.

E's legs were sore as she walked back. Mom and Dad went way up ahead, while we walked at a slower pace. We tried to catch up with them, but we couldn't run that far.

It took almost no time before we reached the end of our hike by Lake McDonald Lodge. We took a side trail through the woods to our parking space. On the way to the parking lot, we climbed up the steps of a motel. From there, we had a good view of the parking lot below. Next door to the motel, we saw a cabin that had a tree growing right up through the roof. We got back to the Jammer Joe's parking lot, and saw many of the indigenous Columbian ground squirrels that live on their lawn. After taking off our packs and eating our pudding snacks we rode home.



Quick Facts: What is a rain forest?

A rain forest can be described as a thick, dense jungle. The reason it is called a rain forest is because of the high amount of rain it receives. The west side of the Northern Rocky Mountains receive more rain than the east side of the Rocky Mountains, which are in a "rain shadow". A rain shadow is a dry region of land that is leeward of or behind a mountain, with respect to prevailing wind direction.

The story "Mystery in the Rain Forest" takes place on the west side of the Rocky Mountains in Glacier National Park. This area receives more rain, hence the rain forest area around Lake McDonald, than the east side of the park which is drier and more desert - like.



©5/11/08